HYPERSATURATION MAGAZINE
A magazine celebrating everything slightly off-color.
ABOUT
Hypesatch is a cultural scrapbook showcasing artists' work in a physical form. Founded by Joshua Gruft and Courtney EG through their mutual love of design, color, and words, we strive to print unique shapes in a neat handheld paperback magazine.Hypesatch is a zine that celebrates everything slightly off-color. We want to highlight artists of every medium, from digital to paint to comics to the written word and beyond. Based out of the Capital Region of New York, we want to uncover the hidden gems around us and beyond.We're here to throw color on a dull world. Join us.
EDITORIAL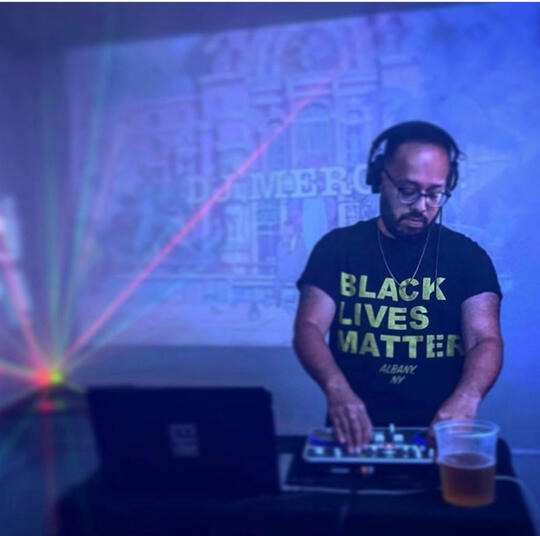 Joshua Gruft has been the cultural ambassador of rhythm and sound for the past 20 years that he's been in Upstate New York. In the far west Finger Lakes region, he studied with audio engineers & jazz theorists. JG then moved south to the Lower East Side where his teachers performed in dark clubs and pool halls. As an elder millennial, JG spends most of his time reading manga and tinkering in Logic. With this zine, he hopes to accompany your spliff session with something memorable.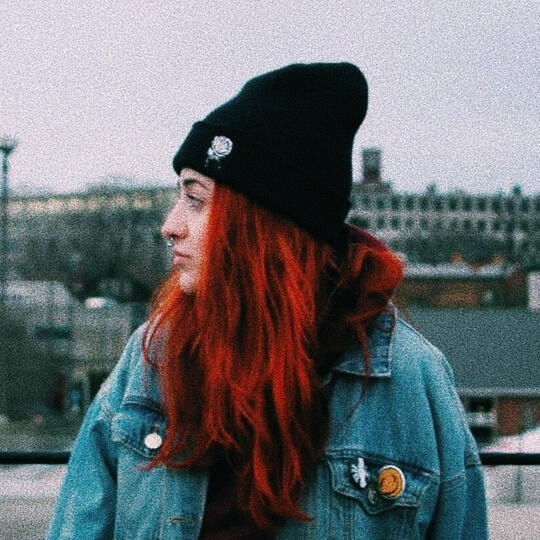 cøurtney eg describes themselves as being on the same interest and maturity level as a 12-year-old boy who watched a bootleg and corrupted vhs of fight club they stole from their older brother. they grew up on adult swim cartoons, nu-metal, and 2000s reality television and learned html because of their bitchin' minimalist myspace page. when cøurtney isn't making unhinged electronic music as cørdyceps or translating their brain vomit into t-shirts for nullvøid apparel, they're helping curate 40 pages of organized chaos for hypesatch.
SUBMISSIONS
Are you an artist of any medium who wants to submit to something really fuckin' cool? Click here to fill out our submission form, or shoot us an email with the subject "Hypersaturation Submission" and today's date.Interested in advertising in Hypersaturation? Maybe you want to carry us in your book store? Do you just have a general question? Awesome to any and all of the above. Shoot us an email with your intention in the subject line and we'll get back to you as soon as possible.GENERAL ART SUBMISSION FORM
Submission status: OPEN
BLOG
Mallo's
4/5/2023
Downtown Troy has an amazing array of food options. There's Caribbean (Mi Casa, M&K Island Hut), Mexican (Taco Libre, Capital Tacos), Japanese (Unagi Sushi, Kuma Ani), guilty pleasure bar food (The Ruck, Bootleggers) to name a few. But! For the longest time we lacked a proper sandwich shop. In October 2022 that all changed when local entrepreneur Max Wolff teamed up with celebrated fine dining chef Ian Brower to create Mallo's!
Max: "Everything is made from scratch. No Boar's Head or processed bullshit. We're taking the time to roast everything. Cutting everything by hand for every order. Caring and Love that's it."
Ian: "We're just a great neighborhood eatery. Making everything from scratch that we can. Just good delicious healthy food .. and maybe even a little greasy too."
Their Turkey sandwich is a favorite in the Satch office. In house oven roasted turkey, garlic aioli, crispy pancetta, fresh arugula, gorgeously pickled red onion, topped with Gruyère (a hard Swiss cheese.) The sub roll from a local bakery is the final touch for the perfect anytime of day sandwich.
Ian and Max have spent a good amount of their young adulthood bouncing around different restaurants honing their skills and improving  their palates. The proof is in the quality, taste, and choice of every ingredient. The Gruyère has a perfectly subtle funk that blends well with their aromatic garlic aioli. Pickling the onions not only adds a unique flavor & color but also acts like a traditional vinegar substitute.
Ian: "One of my first jobs was at the Hibernian Hall in Albany washing dishes. I also worked at the window selling hotdogs during bingo night. That turned into working the friers."
"I always loved food and going to restaurants. My aunt and uncle were kosher wine distributors in NYC. They used to take me with them for wine deliveries and I would go in the back of the restaurant in the kitchen. It would be some super decked out Italian kitchen. That began my fascination with restaurants."
Max: "My first experience in the kitchen is when this guy (Ian) taught me how to sweep. He would look and me and say, "who taught you how to ride a broom?" I'd say "what do you mean I'm sweeping?" He'd tell me "you're fucking doing it wrong dude!" That was the first moment I thought "o shit this is the real deal." That was at Debbie's Kitchen around 2006 - 2007."
Debbie's Kitchen was a staple in the heart of Albany across from Washington Park since the early 90's. They were known for their creative vegetarian sandwiches and soups that tasted like it was made in your grandmas kitchen. Mallo's is continuing the tradition they learned 15 years ago by choosing fresh delicious ingredients to serve to the locals.
Max: "I also worked in the kitchen at the Gastropub, Avenue A, Honest Weight Food Co-Op, Old Chatham Sheepherding Company making cheese with Josh Coletto (The owner/head chef of downtown Troy's farm to table five star eatery Nighthawks.) That was a sick one, me and Coletto, the shepherds."
We interviewed the guys in their kitchen around 130pm on a Saturday. Ian handled the cheffing while Max handled the customers, prep and dishwashing. Watching them work together you could see what they've learned with their years of experience. The kitchen was clean, the food was handled to perfection and the customers were happy. Anything Ian needed Max was on top of it. We got the newly added to the menu fried chicken sub for lunch.
The fried chicken sub is two pieces of fried chicken, arugula, olive oil, Stracciatella di bufala (a soft southern Italian Buffalo milk cheese) with a balsamic glaze on a 8" sub. We also got a side of their crispy fresh cut ribbon chips. The meal was as delicious as expected. These two dudes only know how to make good food.
If you thought making the perfect sandwich was enough .. it is not.
Something both Max and Ian were excited to talk about was their plan to hold private fine dining parties inside their casual sandwich shop.
Ian: What I love about this concept is we can make sandwiches during the day and have a super casual eatery. But then at night we can do whatever we want. There's no parameters. It's a deli, not an Italian or American specific restaurant, it's whatever we want it to be.
Max: We want to be a staple in the community. The local sandwich spot that's always doing cool things. Just having fun and making good food.
Mallos is located at 156 Fourth Street in Troy, NY open Wednesday through Saturday 12pm to 7pm.
eatmallos.com